John Evans, propriétaire de EVEN SONG, tout fraîchement sorti des moules du chantier BG Race nous envoie un message en vue des régates qui se tiendront dans le Solent du 16 au 17 septembre prochain.
The Royal Southern is situated on the River Hamble, close to Southamptom and the Solent. The Club provides some of the most prestigious racing in the Solent, from "Swan" Classic regattas through to "X" One Design racing.
Each year there are five "Summer Regattas" where racing is provided for all Classes in IRC and "Sportsboats".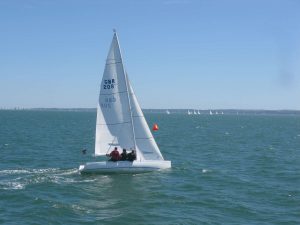 For the M7.50 that means we race against J80s, SB3s, Viper, and other "Sportsboats". We have discovered that we can compete well with J80s and SB3s on a "boat for boat" basis, as well as via the IRC rating. If there are six or more entries for the Summer Regatta from one Class, there will a specific "Class start".
We hope that, with "EvenSong", we just need five of the French fleet to come over, and we will have a separate Class start and prizes for our fleet, in the September Regatta on 16th/17th September.
For each Summer Regatta, there is racing on Saturday and Sunday, with three races each day. Each race lasts about 75 mins, and will either be a Windward/Leeward course or a with a "triangle" to vary the route. The racing is extremely well run, and efficient. Everyone arrives back at the Club each day by 16.30 for drinks and food.
There is a very efficient crane (grûtage) system, and plenty of "safe" space for mooring the boats overnight in the Yacht Haven. There is plenty of local accommodation ( chambres d'hôte) in Hamble village, and I can supply a list.
Royal Southern is a very big club, but it is also a very friendly Club, and a very warm welcome is always prepared for visitors – especially overseas visitors. The Club has specific connections with both Deauville and St.Malo "Cercles de Voile".
There will be many people who will be most interested in watching the performance of a small fleet of 7.5s we hope, in September – it will be an exceptional 'promotion' for the Class.
Please make contact with me if you are thinking about "coming over" in September. I will be there to meet you – the Club is only 30 minutes from Portsmouth Ferryport.
John Evans
jfkyachts@btinternet.com.